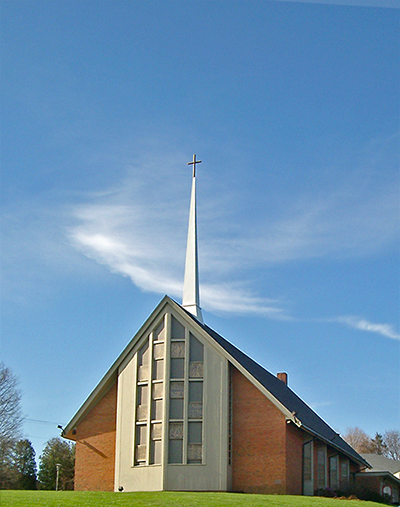 Zion Evangelical Lutheran Church is a worshiping, learning, witnessing, and serving community of baptized persons, among whom the Word is proclaimed and the Sacraments are celebrated according to the Holy Gospel.
About 350 people of richly diverse backgrounds, coming from Portland, Connecticut, and surrounding towns, are joined together in fellowship at Zion. We invite you to join us.
CHRISTMAS EVE WORSHIP: 5 p.m. and 11 p.m.
(No morning service at Zion that Sunday)
NEW YEAR'S EVE WORSHIP: 10 a.m., Festival of Lessons and Carols at Trinity Episcopal Church, 345 Main Street, Portland
(No morning service at Zion that Sunday)
DONATE TO LUTHERAN WORLD RELIEF TO ASSIST IN HURRICANE RECOVERY
TRILOGY OF HOLIDAY MUSIC, link to information flyer
Come join us at:
183 William Street
Portland, CT 06480
Regular Worship Schedule:
Sunday Worship 9 a.m.
Sunday Coffee Hour 10:15 a.m.
Sunday School 10:15 a.m. (first and third Sundays)
Call for information about New Member Classes, starting soon.

Upcoming events listed below.  See Outreach for complete calendar and event details.
Zion hosts a Trilogy of Holiday Music: 
Information Flyer

November 10: St. Petersburg Men's Ensemble, 7 p.m.
December 10: The New England Chamber Choir, 3:30 p.m.
January 6, 2018: The City Singers of Hartford, 4 p.m.

Now: Church members favorite recipes cookbooks on sale. $12 each.
December 3 and 10: Children's Pageant Practice, 10:15 a.m. following worship
December 11: Grace Guild Annual Christmas Gathering, noon at Marie DeGraff's house.
December 15: Deadline for purchase of Poinsettias. $13 each.
December 17: Children's Christmas Pageant during 9 a.m. worship service
December 24: Christmas Eve services, 5 p.m. and 11 p.m.
December 24:  No 9 a.m.worship service
December 31: Ecumenical Service of Lessons and Carols, Trinity Church, 345 Main St in Portland, 10 a.m. No worship at Zion that morning.
Choir: Chime Choir, Wednesdays at 4:30 p.m. and Adult Choir, Sundays at 10:15 a.m.