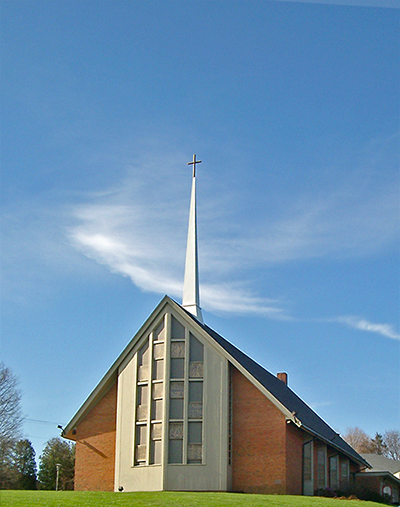 Zion Evangelical Lutheran Church is a worshiping, learning, witnessing, and serving community of baptized persons, among whom the Word is proclaimed and the Sacraments are celebrated according to the Holy Gospel.
About 350 people of richly diverse backgrounds, coming from Portland, Connecticut, and surrounding towns, are joined together in fellowship at Zion. We invite you to join us.
Come join us at:
183 William Street
Portland, CT
June 25
Outdoor Worship with Faith Lutheran at Zion: 9:30 a.m.
Potluck Lunch to Follow
Regular Worship Schedule:
Sunday Worship 9 a.m.
Sunday Coffee Hour 10:15 a.m.
Sunday School 10:15 a.m.
Call for information about New Member Classes, starting soon.

Upcoming events listed below.  See Outreach for complete calendar and event details.
June: See Pastor's message in Outreach for opportunities to have your questions answered this summer during worship.
June: Please let Pastor Kari know about graduates in your family. They will be honored at the July 2 worship service.
June: Zion is collecting toothbrushes and toothpaste during the month of June to pass along to families in need. Collection box is in the narthex.
June 25: Worship will begin at Zion at 9:30 am with members of Faith Lutheran, Middletown, outdoors (weather permitting) at Zion. Potluck lunch to follow. Please bring a dish to share!
June 30: Deadline for submittal of your favorite recipes to our cookbook fundraiser.  See details in Outreach for how to submit your recipes.
September 15-17; or October 6-8: Lutheran Marriage Encounter Weekends, see the Outreach for details.
Tuesdays: Chime Choir, 6:00 p.m and Choir, 7:00 p.m.
Now: Camp Calumet brochures available on the table outside of the church office.