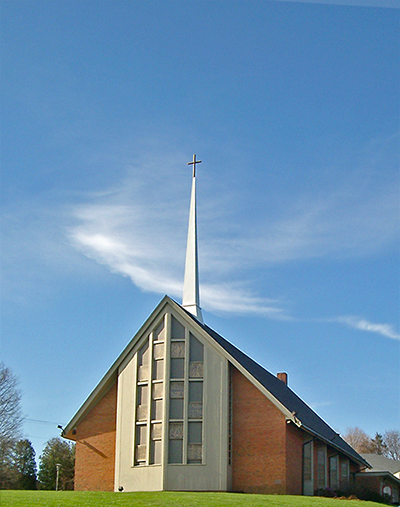 Zion Evangelical Lutheran Church is a worshiping, learning, witnessing, and serving community of baptized persons, among whom the Word is proclaimed and the Sacraments are celebrated according to the Holy Gospel.
About 350 people of richly diverse backgrounds, coming from Portland, Connecticut, and surrounding towns, are joined together in fellowship at Zion. We invite you to join us.
Soup and Substance: April 4, 5:45 p.m.
Palm Sunday: April 9, 9 a.m.
Maundy Thursday: April 13, 7 p.m.
Good Friday Ecumenical Walk with the Cross: April 14, noon, St. Mary's to Trinity Episcopal
Good Friday Worship at Zion: April 14, 7 p.m.
Easter Sunday Celebration: April 16, 9 a.m.
Regular Worship Schedule:
Sunday Worship 9 a.m.
Sunday Coffee Hour 10:15 a.m.
Sunday School 10:15 a.m.
Weather delays or cancellations will be announced on NBC Connecticut, Channel 30. When in doubt, please check there.
Call for information about New Member Classes, starting soon.

Upcoming events listed below.  See Outreach for complete calendar and event details
April 2: Italian Night, featuring The Three Amigos, 4 p.m.
April 5: Deadline for purchasing Easter Lilies.
April 29: Muscle Cars 'n Hotrods Cruise Night at Valli's, 22 Sand Hill Rd, Portland, 3 p.m. – 8 p.m., in memory of Kenny Fletcher, to benefit Zion among other groups (rain date: May 6), spectators free.
April 28-30; September 15-17; or October 6-8: Lutheran Marriage Encounter Weekends, see the Outreach for details.
Plan ahead! May 13, 2017: Tag Sale, in conjunction with town-wide tag sale.
Tuesdays (Sundays during Lent): Chime Choir, 6:00 p.m and Choir, 7:00 p.m.
Now: Camp Calumet brochures available on the table outside of the church office.
Now: Favorite recipes wanted for upcoming cookbook fundraiser.