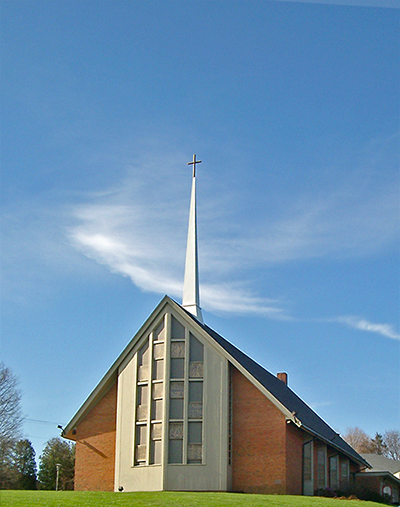 Zion Evangelical Lutheran Church is a worshiping, learning, witnessing, and serving community of baptized persons, among whom the Word is proclaimed and the Sacraments are celebrated according to the Holy Gospel.
About 350 people of richly diverse backgrounds, coming from Portland, Connecticut, and surrounding towns, are joined together in fellowship at Zion. We invite you to join us.
Join us at:
183 William Street
Portland, CT 06480
Call us: 860-342-2860
Write to us: P.O. Box 202, Portland, CT 06424
Email us:  zion.lutheran@snet.net
HOLY WEEK & EASTER SCHEDULE:
March 29:  Maundy Thursday Service, 6:30 p.m., potluck dinner with worship
March 30: Ecumenical Walk, 12 noon from St. Mary's Roman Catholic Church to Trinity Episcopal Church
Good Friday Service, 7 p.m.
April 1:  9 a.m., Easter Celebration of the Risen Lord
Regular Worship Schedule:
Sunday Worship 9 a.m.
Sunday Coffee Hour 10:15 a.m.
Sunday School 10:15 a.m. (first and third Sundays) (April 8 and April 15 this month)
Call for information about New Member Classes, starting soon.

Upcoming events listed below.  See Outreach for complete calendar and event details.
March 29: Maundy Thursday Service, dinner worship, potluck, 6:30 p.m.
March 30: Ecumenical Walk, noon
Good Friday Service, 7 p.m.
April 1: Easter Sunday Celebration, 9 a.m.
April 7: WELCA Spring Gathering planning meeting, 10 a.m. at Zion Lutheran Church in Southington
April 8: Italian Dinner Night, 4 p.m., $15 adults, $6 children, under 5 free. The Three Amigos entertainment.
April 8 and April 15: Sunday School following worship (revised schedule; no Sunday School Easter Sunday)
April 16: Grace Guild, 1 p.m.
April 28: 8th Annual Kenny Fletcher Memorial
Cruise Night at Valli's, 3 p.m. to 8 p.m.
May 5: WELCA Spring Gathering, 8:45 a.m. – 2:30 p.m., $20. For information, contact Tracy Carlson at 860-620-4166 or tcarlson01@snet.net
May 12: Zion will participate in town-wide tag sale. Start gathering your items now!
Choir: Chime Choir, Wednesdays at 4:30 p.m. and Adult Choir, Sundays at 10:15 a.m.