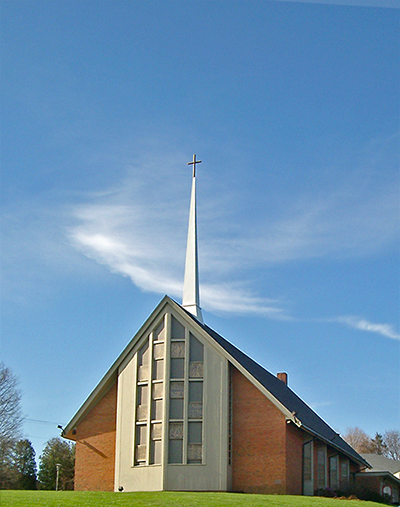 Zion Evangelical Lutheran Church is a worshiping, learning, witnessing, and serving community of baptized persons, among whom the Word is proclaimed and the Sacraments are celebrated.
Join us at:
183 William Street
Portland, CT 06480
Call us: 860-342-2860
Write to us: P.O. Box 202, Portland, CT 06480
Email us: Church office:  zion.lutheran@snet.net; or Pastor Kari: pastorkarijo@gmail.com
Regular Worship Schedule:
Sunday Worship, 9 a.m.
Sunday Coffee Hour, 10:15 a.m.
Saturday Worship & Potluck Dinner, last Saturday of the month, 5:30 p.m.
Children's Sunday School and Confirmation, 1st and 3rd Sunday, 10:15 a.m.
Sunday Adult Education, 2nd and 4th Sunday, 10:15 a.m.
Call for information if you would like to learn more or if you are interesting in becoming a member.

Upcoming events listed below.  See Outreach for complete calendar and event details.
June 2: Intro to Communion Class for little ones, following worship
June 7: Jessica Wilcox School of Music recital, 7:00 p.m., free and open to the public
June 12: Life Line Screening, to register & receive a $10 discount off any package priced above $129, call 888-653-6441 or visit www.lifelinescreening.com/communitycircle or text the word circle to 797979
June 17: Grace Guild meeting, 1 p.m.
June 19: Diversity Group hosting Potluck in the Park (Portland Riverfront Park), 5 p.m. to 8 p.m.
June 23: Joint outside (weather permitting) worship service with Faith Lutheran here at Zion, 10:30 a.m.
Choir: Chime Choir, Wednesdays at 4:30 p.m. and Adult Choir, Wednesdays at 5:30 p.m.
Anytime: Adult Online Education, contact Pastor Kari to be added to the Google Classroom.
Anytime: Cookbooks still available, $12 each.
Looking Ahead to 2020: Celebrating 50 Years of the Ordination of Women in the Evangelical Lutheran Church in America.