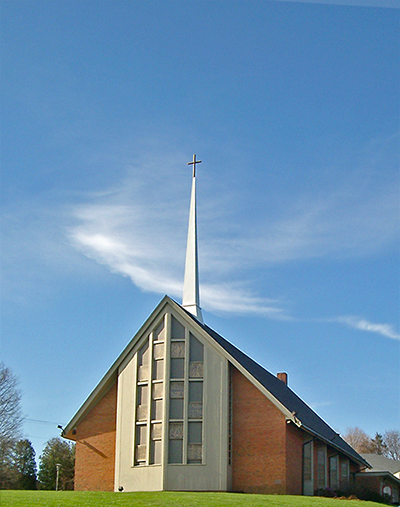 Zion Evangelical Lutheran Church is a worshiping, learning, witnessing, and serving community of baptized persons, among whom the Word is proclaimed and the Sacraments are celebrated.
Join us at:
183 William Street
Portland, CT 06480
Call us: 860-342-2860
Write to us: P.O. Box 202, Portland, CT 06480
Regular Worship Schedule:
Sunday Worship, 9 a.m.
Sunday Coffee Hour, 10:15 a.m.
Children's Sunday School, 1st & 3rd Sunday of the month, 10:15 a.m.
SUNDAY SCHOOL RALLY DAY: September 15, join us for fun, crafts and snacks. Register your child(ren) for Sunday School! All are welcome!!
Call for information if you would like to learn more or if you are interesting in becoming a member.

Upcoming events listed below.  See Outreach for complete calendar and event details.
September 1: Ecumenical Service at Trinity Episcopal, outdoor "Mass on the Grass", 10 a.m.
September 6-8: Youth gathering at Hammonasset State Park, "Back to the Beach"
September 8: Pastor Paul Sinnot will lead the service; and following the worship, lead a discussion regarding our transition & search for a new pastor
September 9: Sunny Hill Preschool begins classes
September 14: Work Day, sanctuary and landscape clean up, 9 a.m. to 1 p.m.
September 15: Rally Day Sunday School registration, crafts and snacks, 10:15 a.m.
September 15: Worship & Music Committee, following worship
September 16: Grace Guild, 12 noon
September 28: Chicken Cordon Bleu dinner, 5-7 p.m.
November 1-3: Lutheran Marriage Encounter Weekend, register now! www.GodLovesMarriage.org
Choir: Chime Choir, Wednesdays at 4:30 p.m. and Adult Choir, Wednesdays at 5:30 p.m.: on hiatus for the summer
Anytime: Adult Online Education, contact the office to be added to the Google Classroom.
Anytime: Cookbooks still available, $12 each.
Looking Ahead to 2020: Celebrating 50 Years of the Ordination of Women in the Evangelical Lutheran Church in America.