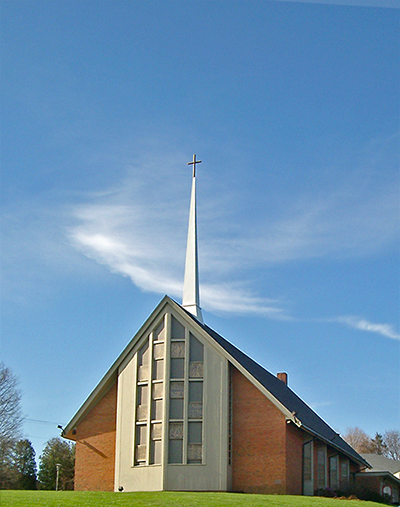 Zion Evangelical Lutheran Church is a worshiping, learning, witnessing, and serving community of baptized persons, among whom the Word is proclaimed and the Sacraments are celebrated according to the Holy Gospel.
About 350 people of richly diverse backgrounds, coming from Portland, Connecticut, and surrounding towns, are joined together in fellowship at Zion. We invite you to join us.
Join us at:
183 William Street
Portland, CT 06480
Call us: 860-342-2860
Write to us: P.O. Box 202, Portland, CT 06480
Email us: Church office:  zion.lutheran@snet.net; or Pastor Kari: pastorkarijo@gmail.com
Regular Worship Schedule:
Sunday Worship, 9 a.m.
Sunday Coffee Hour, 10:15 a.m.
Children's Sunday School and Confirmation, 1st and 3rd Sunday, 10:15 a.m.
Sunday Adult Education, 2nd and 4th Sunday, 10:15 a.m.
Call for information if you would like to learn more or if you are interesting in becoming a member.

Upcoming events listed below.  See Outreach for complete calendar and event details.
January and February: Grace Guild is not meeting
January 12, 10 a.m. to 2 p.m. and January 13, following worship: coat and nonperishable food drive
January 19: Saturday evening worship with potluck dinner and discussion, 5:30 p.m.
January 20: Deadline for annual report submissions
January 22: Worship and Music Committee, 6 p.m.
January 22: Council Meeting, 7 p.m.
January 27: Annual Meeting, following worship (snow date February 3)
Choir: Chime Choir, Wednesdays at 4:30 p.m. and Adult Choir, Wednesdays at 5:30 p.m.
Anytime: Adult Online Education, contact Pastor Kari to be added to the Google Classroom.
Anytime: Cookbooks still available, $12 each.
Looking Ahead to 2020: Celebrating 50 Years of the Ordination of Women in the Evangelical Lutheran Church in America.